By purchasing this product, you can earn points based on a percentage of cart total. You will come to know the earn points information once you add the product to cart.
Rainbow Congee – Chicken Flavour 4s
$5.80
– Twin Award Wholegrain Congee
Highlanders Rainbow Congee Series is a nutritious blend of red brown rice and vegetables which can be cooked in 20 minutes. Fresh ingredients such as meat or vegetables can be added in to create a tasty congee that is one of a kind in the world!
Highlanders Rainbow Congee comes in 4 flavours – Original, Chicken, Ikan bilis (Anchovies) and Mushroom.
All natural
Cholesterol-free
Healthier Choice
Higher in wholegrains
Trans fat free
Suitable for all
In stock
Description
Inside The Bowl Of Highlanders Rainbow Congee
Red Brown Rice
A wholegrain rice with the nutritious bran layer and embryo intact. It is a good source of antioxidants, B vitamins, dietary fibre, iron and calcium.
Foxnuts
(Qian Shi)
Also known as makhana, these are not tree nuts, but actually lotus seeds. These seeds are astringent and are known to help improve kidney functions. They are high in protein and rich in calcium.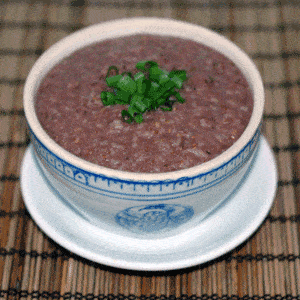 SHIITAKE MUSHROOMS​
Rich in umami flavours, shiitake mushrooms are known for their special nutrition profiles. They contain vitamin Bs and some minterals such as copper, which is one of the few metallic elements essential for maintaining normal metabolic processes and a healthy cardiovascular system. It is also rich in amino acids and often used to boost the immune system.
Seaweed
Seaweed is one of the most nutritionally dense foods in the plant kingdom. It is best-known for being a source of a nutrient missing in most other food: iodine, which is critically important to maintaining a healthy thyroid, a gland that helps produce and regulate hormones.
Pearl Barley
Barley is an ancient grain commonly used for its cooling properties to fight inflammations and aid detoxification. It also helps to relieve bronchial spasm and releases tension in the lungs, making it hugely helpful for asthma sufferers.
Twin-Award Winning Product
Highlanders Rainbow Congee Series is a twin-award winning product developed by the Singapore Polytechnic and was awarded the Grand Winner of the Singapore Food Manufacturers' Association Food Product Development Competition in 2007. It was subsequently awarded the Best Healthier Choice Product in the SIFST Food Product Awards 2009 – 2011 and nominated to represent Singapore in the IUFoST Global Food Awards 2010.
Unlike traditional brown rice, Rainbow Congee is tasty and easy to cook. It can be cooked using the same amount of time as normal white rice with no additional procedure of soaking or pre-boiling. The ingredients are whole grains and contain high fibre, which makes Rainbow Porridge a good staple suitable for everyday cooking in various settings to supplement the lack of fibre in the modern diet refined grains. Now you can enjoy the goodness of wholegrains with a great taste.
How to Cook Rainbow Congee
Add fresh ingredients eg. meat, vegetables, 350ml water and 1 packet of Rainbow Congee into the pot (or rice cooker) and cook uncovered for 20 minutes or until the grains are fully cooked. Stir occasionally.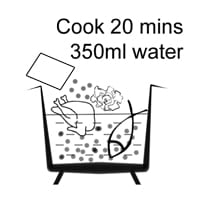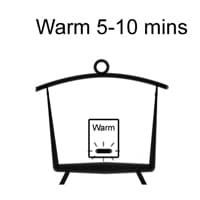 After the congee is cooked, cover and leave it to stand or keep warm for 5-10 minutes before serving. 
Started this Brown Rice Tea half a year ago. Firstly was quite skeptical over what a small sachet of tea can do. It proves me wrong after months of consuming. My conditions of sleepless nights and night urinating improves tremendously! And I love the product of Rainbow Congee. The kids love it too!
Brown rice congee tastes delicious and convenient to cook.
Additional information
| | |
| --- | --- |
| Weight | 0.23 kg |
| Dimensions | 20 × 11 × 14 cm |